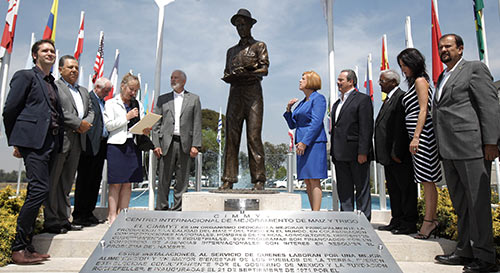 Texcoco, State of Mexico, Thursday 9 April 2015
Mexico's Secretary of Agriculture, Livestock, Rural Development, Fisheries and Food (SAGARPA by its Spanish acronym) and the International Maize and Wheat Improvement Center (CIMMYT) signed a collaboration agreement for 2015 to jointly operate the Sustainable Modernization of the Traditional Agriculture (MasAgro).
As the celebration of Nobel Peace Prize laureate Norman Borlaug's birthday centennial came to a close, SAGARPA Secretary Enrique Martínez y Martínez and CIMMYT Director General Thomas Lumpkin signed an agreement to work on programs focused on research the and transfer of knowledge to the agricultural sector.
At the event held at CIMMYT headquarters, Secretary Martínez y Martínez highlighted that this agreement will allow one of the most important SAGARPA research components to operate, since thanks to research, it is to make possible to productivity increases productivity in the face of global challenges.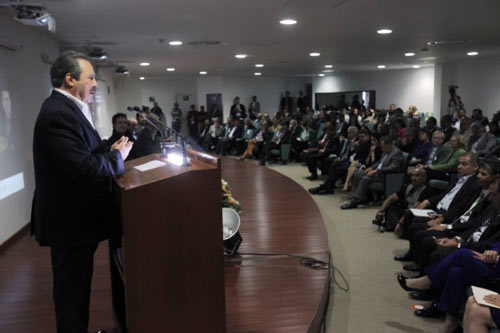 He said that innovation and the transfer of technology are key factors in sustainably meeting the growing food demand.
He added that CIMMYT is responsible for bringing knowledge to more and more Mexican farmers through its innovation networks.
SAGARPA's Secretary also recognized World Food Prize laureate Sanjaya Rajaram, and Norman Borlaug Prize to Field Research winner Bram Govaerts, for their contributions to the development of both variety wheat varieties and technology technologies that make the agricultural sector more productive.
CIMMYT's Director General Thomas Lumpkin stated that CIMMYT's innovations and research have remarkable applications in Mexico and other countries environments.
Lumpkin also said that MasAgro's strategy, which aims to increase the yields of maize, wheat and other cereals based on the sustainable practices of smallholder farmers, is sought to be replicated by countries in Central America and the Caribbean, including Honduras, Bolivia and Haiti.
"That's the reason why Mexico is so important at the international level, and has a leading role as a promoter of new technologies," he added.
"What we do in 2015, in terms of research and development, will be reflected in 2050," said Lumpkin.
Sanjaya Rajaram, 2014 World Food Prize 2014laureate, pointed out "as Norman Borlaug said, food is a human right for which all of us must continue to fight regardless our nationality, occupation or workplace."
He assured attendees that technology now exists to overcome challenges such as those posed by climate change, food security and sustainable development, and it must be delivered to farmers worldwide.
Bram Govaerts, Associate Director of CIMMYT's Global Conservation Agriculture Program, said that the memory and vision of Norman Borlaug are still present in CIMMYT's conservation agriculture plots and that they are the basis of CIMMYT's activities.
The event was attended by Jeanie Borlaug-Laube, Norman Borlaug's daughter; the president of Mexico's Senate Agriculture Commission, Manuel Cota Jiménez; the Secretary of Agriculture and Livestock Development in Guanajuato, Javier Usabiaga Arroyo, and representatives of the embassies of the United States, Australia and India to Mexico.
Representatives of SAGARPA included Subsecretary of Agriculture Jesús Aguilar Padilla; General Attorney Mireille Roccatti Velázquez; Agrofood and Fisheries Information Services (SIAP) Head, Patricia Ornelas Ruiz; and general coordinators of Livestock, Francisco Gurría Treviño, of International Affairs, Raúl Urteaga Trani, Technology Productivity and Development, Belisario Domínguez Méndez.